Welcome to the T.W.W.A. website
The objective of this association shall be to promote the science and practice of water and wastewater treatment and handling; to promote cooperation among the membership, institutions of learning and public health agencies; to protect tenure of service operatorsby means of progressive certification and licensing; and to enable each Tennessee community to benefit from the experience of others, thus making Tennessee a better andhealthier state in which to live.
Announcements
Please remember to fill out forms for state and local awards, these forms are available on the links to the left, they can be filled out on website and submitted with the click of a button. No more print and mail and no more excuses, all forms are editable from here now including awards, service pins, and scholarship.
All regions please send meeting info or any other info to mcheek@eubnet.org or info@twwa.net and I will get it on site.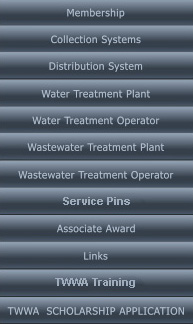 TWWA Official Website 2019, All Rights Reserved